See our demonstration unit in action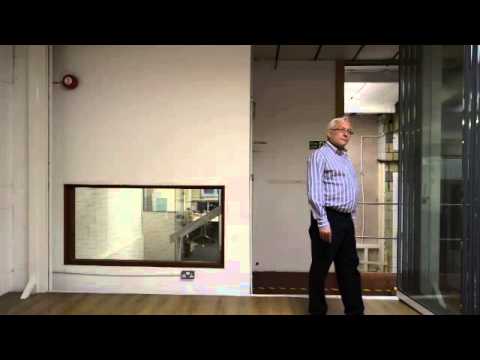 Click image to play
Kent-based aluminium specialist, Frameless Glass Curtains Ltd, has introduced a new option on its 'Clearline' range of thermally broken, glazed sliding/folding doors to make them significantly more versatile. Customers can now choose to have doors with integral rollers which allow even the heaviest installations to open and close at the lightest touch.
The new design has been developed for very large openings where each individual double-glazed curtain (or panel) is up to 1.3 metres wide and 3.0 metres high. For smaller openings and for single-glazed doors for internal use, the existing low-friction, glide-open system – which relies upon a maintenance-free PTFE track and kinetic energy – will remain the standard option.
FGC Managing Director, Gary Beresford explains: 'This is part of our strongly-held commitment to continuous product improvement. The PTFE track works extremely well but the weight factor does limit the size of the individual curtains and hence the size of the whole door. The new integral rollers will make the "Clearline" range suitable most locations.'
The rollers are fitted to the bottom frame of each curtain but remain out of sight because they, and the frame, sit in a channel which is sunk into the floor. Since the side and top frames are similarly concealed and the doors have no vertical metal mullions, the whole installation appears to be frameless, allowing the clearest possible views to the exterior.
Already proven in projects all over the UK, the real secret of a 'Clearline' installation lies in the unobtrusive PVC bubble gasket sited between the individual curtains. When compressed by the door's easy-to-operate closing mechanism, this gasket becomes all but invisible and creates the illusion of glazing without barriers.
In addition, a combination of toughened 4mm low-iron, light-reflective glass and an inner pane of Pilkington 'K' Glass with a 'U' value of 1.4 W/m2K, ensures that every 'Clearline' installation is safe in use and highly energy-efficient, offering both comfort and lower energy bills.
Moreover, the slimness of each curtain (45mm compared with 90mm in most other systems) means that when stacked to the inside or the outside, they take up minimal room, so allowing optimum use of living/working space.
With both a British and worldwide patent pending, the 'Clearline' range from Frameless Glass Curtains has the capacity to enhance almost any type of property.